Workshop of interpretation and musical execution addressed to musicians and composers

Musician, composer, Oprante-Puparo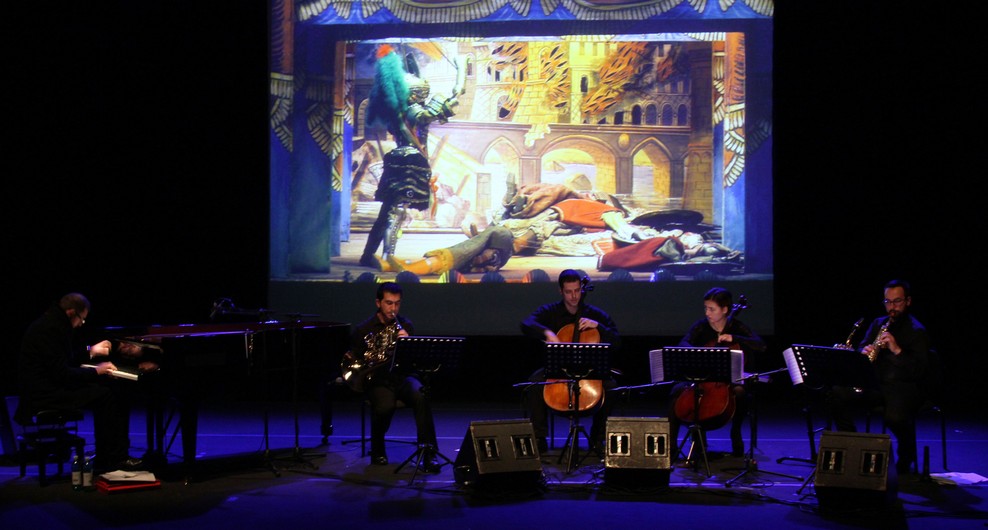 For the Pentedattilo Film Festival the legendary world of the Pupi Opera, declared "oral and immaterial patrimony" of Humanity by UNESCO, borrows its art reinterpreting it through music with two prestigious appointments: the performance of the musical Opera "Quaderno di danze e battaglie dell'Opera dei Pupi", by the Giacomo Cuticchio ensemble, during the night opening of the Award ceremony and projection of the winning shorts (11 December 8.30 p.m. Francesco Cilea Theatre of Reggio Calabria), and the intensive workshop "Musicare la parola", directed by the musician and heir of the Pupi's Opera, Giacomo Cuticchio. The workshop is a unique occasion for musicians, composers, but also enthusiasts of theatre and music who want to acquire specific technical and practical capacities to explore, interpreting the legendary pages of the Orlando Furioso of Ariosto with music.
On a song of Orlando Furioso of Ariosto, the participants will be guided in the reading, interpretation and performance, with there personal musical instrument, from the emotion of the poem.
A creative and dynamic path will be followed, due to enforce creativity and expressive capacity, and to develop theatre techniques, improvisation and experimentation of vocal and musical language. Particularly, participants with perform the storytelling of a part of the opera, which will be accompanied by sounds, rhythms and melodies, specifically composed to give life to the gestures of the first hero of France, in an epic-contemporary key. Using the formation Oprante-Puparo, of which Giacomo Cuticchio is the heir, and the musical path started by the Conservatory and developed in personal experimentation and in constant research, it will be shown how to join the two sister arts of the scene, one as an added value to the other.
It will be illustrated on how to represent the madness of Paladino Orlando, enhancing le different traits of the character and giving form to different characteristics of the protagonist. The singing, chosen for the extraordinary dramatic intensity, will meet the sound of the instruments, which will not only be a musical accompaniment, but also an expression of soul emotions and feelings, giving rhythm to the represented drama, rich emotions and storytelling intensity.
We will this way offer a form of high technical and artistic level of exhibition, in which a basically musical theatre and a proper theatre music will appear.
_________________________________________________________________________________________________________________________________________________________________________________________________________________________________________________
To partecipate to the workshop send you CV before Monday 5 December 2016 at the address:pentedattilofilmfestival@ramfilm.it The workshop has a limited number, max 12 partecipants. The artistic direction of the Festival will select with undeniable judgement the candidates until seats available! Once selected, the participant must deposit a quote of participations to the workshop of 20 euros. Each participant to the workshop will have to bring there own musical instrument. At the end of the workshop the Pentedattilo Film Festival with release a participation certificate.

Duration: 1 day – 8 hours
Days: Saturday 10 December from 10.30 a.m.
Location: Ancient Village of Pentedattilo
Sign up admissions: pentedattilofilmfestival@ramfilm.it